Nairobi is a city marked by a rich historical tapestry and an ever-evolving urban landscape. Known as the 'Green City in the Sun,' Nairobi is both the capital and largest city of Kenya, offering a unique blend of adventure, culture, and business opportunities. It boasts the title of the only city in the world with a national park within its boundaries, showcasing its unique blend of urban lifestyle and nature. As a melting pot of cultures and nationalities, Nairobi is home to numerous international organizations and businesses, making it a continental hub for commerce and diplomacy.
Geography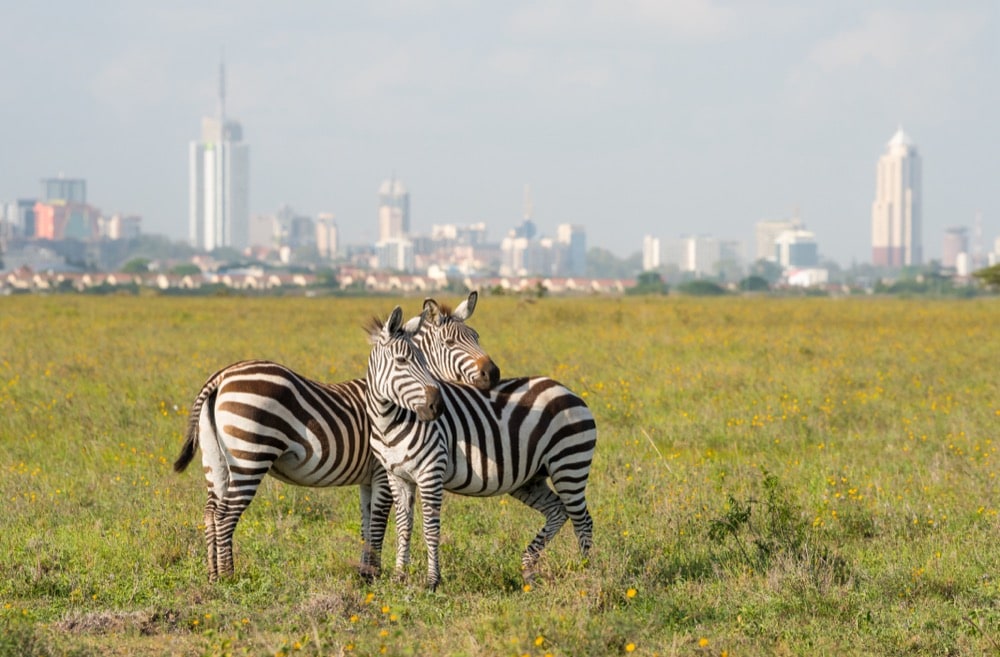 Situated in the south-central part of Kenya, Nairobi is positioned at a high altitude on the Nairobi River, granting it a pleasant, temperate climate. Surrounded by sprawling plains, cliffs, and forests, the geography of Nairobi is diverse and inviting for both residents and tourists alike.
Its central location within the country makes it a strategic point for trade and travel, with easy connections to Kenya's coastal cities, the Eastern African region, and beyond.
Getting There & Around
Nairobi is highly accessible from local and international destinations, primarily through the Jomo Kenyatta International Airport, which is East Africa's busiest airport. Direct flights are available from major cities across the world, making it a global entry point for tourists and business travellers. For regional travel, Wilson Airport provides connections to smaller towns and tourist attractions within Kenya. Road networks extending from Nairobi are well-developed, linking it with the pivotal Mombasa port and other regions. Modern rail transport, including the recently developed Standard Gauge Railway (SGR), offers a swift and scenic journey to Mombasa and has greatly enhanced domestic travel and goods shipping.
Local Economy
Nairobi's economy is one of the most dynamic in the region, driven by a diverse array of sectors. The city is the financial and business heart of Kenya, with numerous multinational corporations, banks, and international organizations holding their African headquarters here. The city thrives on telecommunications, banking, and tourism, underscored by a burgeoning technology sector, earning it the nickname "Silicon Savannah." Agriculture also plays a role, emphasizing Kenya's export-driven focus on tea and coffee. Nairobi's real estate market is growing rapidly, fueled by increasing demand for both commercial and residential properties.
Office Space
The city's dynamic office space market is a testament to its growth and potential, catering to a diverse range of clients - from multinational corporations to innovative startups. The skyline of Nairobi is continuously reshaped by the development of cutting-edge skyscrapers, particularly noticeable in the Upper Hill financial district, which has become synonymous with business and commerce in East Africa. These towering structures are the epitome of modernity and convenience, outfitted with the latest technological advancements and designed to meet international standards.
Moving beyond the conventional office setup, Nairobi has embraced the global trend of co-working spaces. These shared environments are particularly prevalent in the city's creative nerve centres, Westlands and Kilimani, known for their vibrant atmospheres and innovative communities. Co-working spaces in these areas offer flexibility, fostering collaboration and camaraderie among a diverse tapestry of entrepreneurs, freelancers, and small businesses. They are equipped with all essential amenities and often provide networking opportunities that are invaluable to budding enterprises.
International businesses are increasingly attracted to Nairobi for several compelling reasons. One significant draw is the competitive leasing rates the city offers, which provide substantial cost benefits compared to other major global cities. This affordability does not come at the expense of quality or accessibility, as Nairobi's office spaces come in various sizes and configurations, designed to meet specific business needs. Moreover, Nairobi offers an array of flexible office solutions that are conducive to today's dynamic business environment. These range from virtual offices, which allow businesses to maintain a professional image without the need for physical space, to serviced offices that offer a full array of business services, ensuring companies can focus on their core activities without the burdens of office management.
The Kenyan government and private sector are committed to infrastructure development, which is an essential aspect of supporting the growing commercial landscape. Continuous investment in roads, public transport, internet connectivity, and utility services ensures that the business ecosystem is well-supported and that operations run smoothly. As Nairobi continues to evolve, the construction of new office complexes is a regular sight, signalling a city that is not only keeping pace with current demands but is also looking towards the future. These developments are designed with sustainability in mind, often incorporating green building practices to reduce environmental impact and operating costs. With its blend of modern facilities, diverse office space options, and a supportive infrastructure network, Nairobi is not just meeting the needs of today's workforce; it's anticipating the trends of tomorrow, ensuring it will remain at the forefront of the continent's commercial sector for years to come.
Office Locations in Nairobi, Kenya
Transport links
Major roads

Mombasa Road, Thika Superhighway, Waiyaki Way

Railway stations

Nairobi Railway Station

International airports

Jomo Kenyatta International Airport